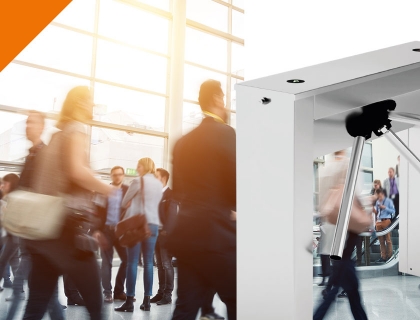 Pedestrian access control systems are used whenever it is necessary to control the flow of visitors coming into or leaving a public or private place. In both cases, it is essential to orient oneself between the offer and the awareness of the most suitable model for our environment.
Location: Outdoor or indoor turnstile? It is important to point out that not all models are suitable for every installation. If we need to control an outdoor passage, it is necessary to know the protection level (IP) of the model we are purchasing (for outdoor installations, it is advisable to use models with IP 44).
Intensity of pedestrian traffic: It is important to know the number of expected passages per hour. In choosing the right model of turnstile, one should consider this factor. Pedestrian traffic with high intensity can reach up to 1200 passages per hour.
Integration: Like in every control access system, the model we choose is supposed to be easily integrated with other existing devices such as fire protection systems, intrusion detection systems etc.
Power supply: Check the power supply and the compatibility with the mains voltage. In case of 24 Vdc models, it will be necessary to install a transformer.
Once we have made sure of all the requirements, all we have to do is go through all the models RISE available!