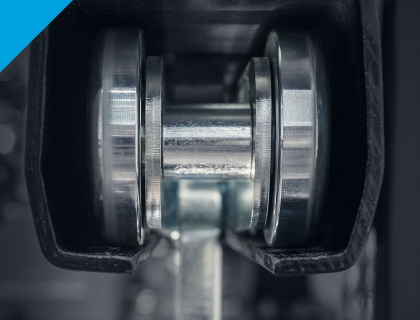 Today we would like to talk about the cantilever system LM series Benincà and Hi Motions present the new inside rack cantilever system with internal rack, the LM series.
This entirely novel system is the ideal one for installations in cold and snowy places as the positioning of the rack, inside the track, gives protection from atmospheric agents and foreign bodies that can obstruct correct gate travel. The system also guarantees the best possible response to international safety regulations as all the transmission members are completely protected from accidental contact with the outside. This ensures not only maximum safety but also a design that can adapt to any architectural context. The 230 Vac, BULL15M ratio motor, with the LM HI MOTIONS associated, is ideal for sliding gates up to 1500 kg. It is provided with a control unit having a receiver and encoder ensuring maximum anti-crush safety and precision during the gate movement steps. Also available is a version equipped with magnetic limit switches for especially cold places.
Are there similar or comparable systems on the market?
The system is highly innovative and is an exclusive market solution. HI MOTIONS' experience in the world of gate accessories, together with Benincà's experience in the world of automation, produces solutions that allow interpretation and advance knowledge of needs, thus creating strong partnerships with professionals. Today all our customers recognise in HI MOTIONS a reference partner in this. The idea was conceived with the aim of processing a hi-tec solution that meets the ever-increasingly specialised needs of our reference market. The HI MOTIONS staff has worked in collaboration with the research and development unit of the Benincà Group. This synergy has enabled us to adapt the BULL motor to the self-bearing system in record time.
And for future? The future for HI MOTIONS will always be directed in this way, to anticipating market needs, exploit the abilities of various sectors, where technology and experience can make our group stand out.
We have baptised our initiative with the name #automationspecialist and which has a profound meaning, being born from choices made as a group and a brand.