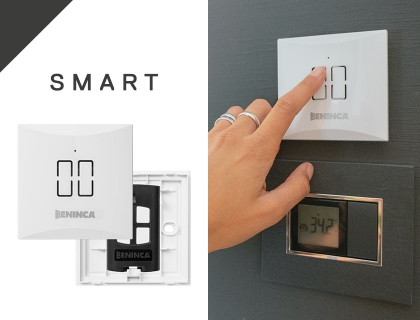 When it comes to practicality, the straightforward internal management of our homes' automatic entrances, garden watering systems or outdoor lights can make a real difference. In these cases, alongside radio controls another possible solution is the installation of an indoor button that is wired to the control unit of the automation system. In new homes all of this can be arranged in advance but in existing contexts it is necessary to carry out building work which, as well as being inconvenient, also drives up costs. Benincà has introduced a product which, in its own simple way, is able to provide an immediate solution for this kind of requirement.
SMART is the new cover for transmitters in the TO.GO series which can be attached to the wall becoming, in just a few simple steps, a genuine wall-mounted pushbutton panel. Thanks to its perfect compatibility with all TO.GO transmitters, it is possible to control access from indoors as well as other associated systems (lights, garden watering etc.).
SMART, the wall-mounted pushbutton panel with a TO.GO soul!