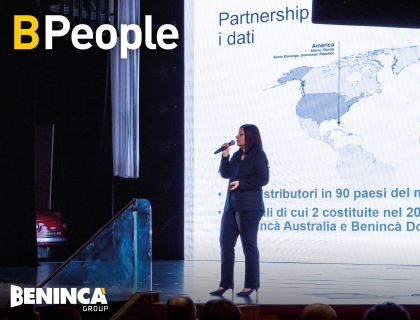 In this beautiful interview, Anna Benincà shares her life journey, from her studies to her experience in the legal world, and the decision to work for the family business focusing on legal and contractual aspects and managing human resources. "Because investing in human capital will undoubtedly help us reach our objectives."
Read the full interview here.
Anna, let's start with you. How were you as a child and what did you dream to become as a grown-up?
I was a very responsible and independent child. At the same time, I was an introvert and, therefore, more inclined towards more reserved activities, such as reading. I dreamed of following in my mother's footsteps and becoming a primary school teacher. I'm sure I would have been a good teacher. When I was about 12 years old, I read "To Kill a Mockingbird", which motivated me to bring "justice into the world". That's when I started thinking about becoming a lawyer.
From dreams to reality: were law studies really your passion?
When I graduated from high school, I attended the University of Trento, where I studied international law, which benefited the family business and allowed me to keep using the languages I learned at school. I have fond memories of my university years because it was the first time I lived away from home (I shared a flat with three great friends) and because I enjoyed studying so much. I got passionate about private law and the logic behind it. I'm always disappointed when people suggest that studying law "only takes a lot of memory" because law is based on logic, and learning legal reasoning adds a lot to one's education.
From university to work. How did the transition go?
I'd say that it was quite shocking. I started practising law in a firm in Vicenza where I realised that even if I was a good student, working in this field would have been completely different from the academic world. I learned how a court registry works, attended my first hearings with my dominus (principal), and wrote the first documents, learning the mechanisms revolving around a trial and getting passionate about it. After becoming a lawyer, I worked on my own for a few years while taking care of the contractual aspects and debt collection for my family's company. In the end, the corporate world won me over, and I decided to give up the legal profession.
Being a woman in the corporate world is not always easy...
From my perspective, it was more difficult in the law world, especially during my two pregnancies, since I didn't have much occupational protection. I was lucky because, during my first pregnancy in 2015, I didn't have particular issues and could work until ten days before giving birth! In the corporate world, I always considered womanhood an opportunity to bring a different perspective into a male-dominated environment and make women grow within the company.
Managing human resources is a delicate and strategic task.
Yes, it is! When the Operations Manager asked me to take care of Human Resources about ten years ago, I accepted enthusiastically, embarking on a journey of consistent growth. Human Resources have changed since 2020. Today, as never before, management strategies have to be clear, shared, and forward-looking to enable the company to continue growing. Because investing in human capital will undoubtedly help us reach our objectives.
Benincà Group: an excellent company that deserves recognition.
As I was saying, I fell in love with the company later in my life, but since then I've always put my expertise at the service of our Group. Automatismi Benincà designs, manufactures, and sells gate automation systems. It's the brainchild of two brothers: Luigi, my father, and Aldo, my uncle, who established the company in 1979. It immediately reflected the entrepreneurial spirit of a typical Veneto-based company with a desire to emerge and work its way up the ladder. In the early years, my uncle was in charge of design and production while my father looked for new clients across Veneto. Our success is the result of hard work that paid off in the long run! By the end of the 1990s, the company was consolidated in Italy and decided to expand abroad. To do that we created Benincà sales branches and a sales team and relied on our specialisation, which led to the creation of the six brands that today, together with Automatismi Benincà, make up our Group. A Group specialising in doors and gates that can offer products with integrated solutions, thanks to the latest acquisition of an access control company. Today, Benincà is an international group employing over 200 people and perfectly balancing management and family property.
How do you balance your private and professional life? It must be complicated...
Well, let's say that I keep busy! In 2019, I ran for local government in my home town with a civic list, and, today, I am a councillor for social policies. It's difficult to handle everything, but I can count on a caring husband and the kids' grandparents. What I really dislike is getting home too late. That's why I try to avoid evening engagements so I can enjoy my family.
Tell us something about you. I know you're good with children...
Yes, I always loved being around them. From age 15 to 25, I became an entertainer for a Catholic youth camp, leading two groups until the fifth grade. I also love animals. As a teenager, I had a dog that became the main character of one of my mother's books. She's a children's author. Now we live with three cats. I believe that growing up with pets is an enriching experience for children. The next step will be to get a dog.
What would you suggest to young ladies who want to become entrepreneurs?
I would suggest studying and reading a lot to build strong knowledge, which is essential for whatever career they choose. I also recommend studying languages and travelling because nothing is more enriching than learning about different cultures.