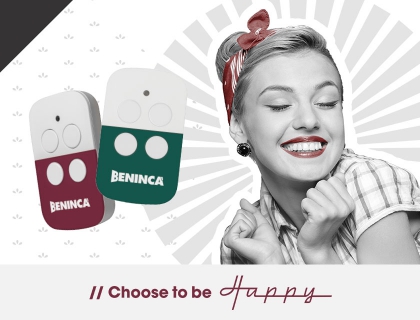 When technology blends with design, unique objects are created, and often these stick in people's minds and become icons. Since we work in automation, we are aware that our products effect people's lives and become an integral part of their daily routines. For this reason, the study of each individual technological solution is structured into two phases: technical and aesthetics.
Is design equally important for all objects?

Accessories have always been elements that allow us to set ourselves apart from the crowd, marking out style and helping us to define our personality even more clearly. During our lives, we choose those objects that represent us as closely as possible. Things that talk about us. HAPPY is the new transmitter that easily changes its look to adapt to our style. Its simple and essential design also recalls one of the most famous historical periods, the 1950s. The subtlety in shape and the spirit of the product are an invitation to rediscover the importance of essential things, the joy of living, and of being together while making a promise to one another to make each other happy. Two versions are available, and both have double coding with two or four channels: Advanced Rolling Code and Fixed Code (HAPPY.2/4AK), or Advanced Rolling Code and Rolling Code (HAPPY.2/4VA). Changing the colour of your remote control is simple and easy with the interchangeable covers, available as accessories in three colours: yellow, orange and light blue.
It's time to change our style. It's time to be happy: Choose to be Happy!