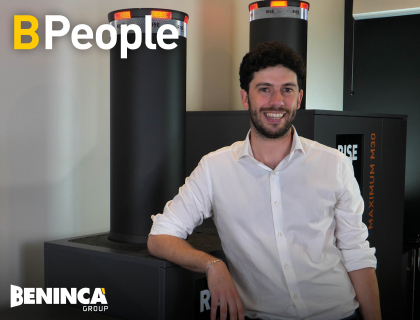 Mirco Cantele, Brand Sales Manager at RISE, shares his story in this short interview. He has been working in Rise, the group's company specialising in automatic bollards, for over 15 years, 3 of which focusing on sales development. "We wanted to expand our range of products," explains Mirco Cantele, Brand Sales Manager at RISE, because our mission has always been to keep the Smart Moving promise, which for us means combining technology and design in products ensuring high standards of security and performance". Today, bollards are the most practical and convenient solution to security problems, including: managing and protecting vehicle access to private areas (especially automated bollards), protecting sensitive areas, e.g., banks, valuable goods storage units, and shop windows, with burglar-proof devices, protecting pedestrian areas, walkways, and cycle paths.
The company has started interacting with architects and designers to integrate these security systems into buildings and urban areas. "Helping professionals choose the best product and integrate our systems into their projects is a challenge - Mirco Cantele points out - and this project is allowing me to expand my horizons with significant business developments." "My work entails constant communication between departments because the project's success involves everyone. I often interact with the technical department to meet the market's requests and provide our clients with the best solutions. Teamwork and sharing the same goals are the best part of this job and the distinctive feature of our group."
In the next few months, Rise will be involved in various events in Italy and abroad to present its new range of products, "it will be an opportunity to collect valuable insights and keep moving forward." Thanks to Rise, the Benincà Group confirms its entrepreneurial attitude to complete the access management automation offering, betting on acquisitions and the competence of its product development centre.